content start
Park In-hwan (1926~1956)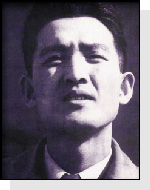 A poet hailing from Inje, he graduated from Gyeongseong Jeil High School (currently Kyunggi High School) in 1945, and entered Pyeongyang Medical School. However, with Korea´s liberation from Japanese colonial rule, he quit school, and ran a bookstore named 'Mariseosa' in Jongno, Seoul.

During his student years, he was engrossed in writing poems. In 1946, he published 'Street' in Kukje Shinmun Newspaper. In 1949, he co-authored a poetry book titled 'New city and unison of citizens', together with Kim Gyeong-rin and Kim Su-yeong. This put Park In-hwan in the spotlight as an early modernist, one who looks for poetic themes and language in urban civilizations and reality.

He was active as a journalist for Kyonghyang Newspaper Daily in 1949, and a war correspondent in 1951. In 1955, he traveled on a KS Line ship to and from the U. S. A. With this background, in 1955, he published "Park In-hwan Poetry Collection" featuring poems that depict exotic emotion charged withhis Bohemian experience and propensity.

He depicted the urban melancholy and sensibility of the 1950s1950's in fresh and rhythmic language. His representative poem is 'Wooden Horse and Lady'. It smacks strongly of Western sensibility and atmosphere and depicts lyrically the dark reality and lifestyle after the Korean War, thus winning broad sympathy. In March 1956, at 31, he died of heart failure after he drank in Myeongdong and came back home. One week before he died, he wrote a poem titled 'If 'Times Flow', which was widely popular.